Hello Magic Bill:

Thought you might like to see how I reconfigured the Magic Glow for my purposes.

I wanted to run the unit from my boot with a solid connection to my leg and have the ground go up to an accent plate on my belt. First I had to reduce the width of the perf board just a touch for so that it would fit in a small project box.

The green capacitor was the only component occupying the first row of holes on one side of the perf board. (See bottom of picture)

If it could be moved, I could cut off that row of the perf board.

| | |
| --- | --- |
| I moved the capacitor to the other side of the resistor, clearing the way to remove a bit of the perf board. | |
| | |
| --- | --- |
| Then I trimmed off the row of perfboard. | |
Now it fit in the small box outfitted with a nice toggle switch.
Note the patch I did to reconnect a wire to the high voltage winding of the transformer. Hairy!

This is the finished project; battery compartment is
attached with Velcro to the side of the box. The antenna wire has a 1/8-inch phone jack using the tip for the conductor. The high voltage wire uses an old ISA bus card mount for conducting to my leg.

The parts fit neatly in the boot, the metal conductor sits comfortably into a sock.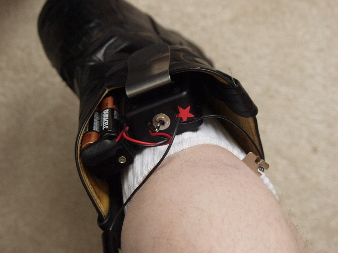 | | |
| --- | --- |
| The ground wire is screwed into the back of this accent piece, hangs down my leg, and then fastens to the 1/8-inch phone jack. | The jack makes it very convenient to disconnect the main unit when I want to get it out of my boot. |
| | |
| --- | --- |
| There are actually two accents, one on each side of the belt. They are wired together so that they both work. | My accomplice can touch either one. |


One refinement was necessary: The 1/8-inch phone jack on the ground wire laid next to my calf. The spark was jumping the gap from the tip to the edge of the ring of the jack and then to my leg. Ouch! I got some little burns from that since it was almost
a dead short to the high voltage 10" away in my sock.


So I had to put shrink tube around the jack to insulate it from my calf. Problem solved. A different jack may be put in if I can find a suitable one without an exposed ring.
Voila! Works great!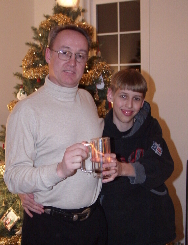 We used it New Years Eve to entertain our 30 guests.
The children got a big kick out of it!

Here's the parts I used from Radio Shack:


One of my gifts was a rechargeable flash light that
came with a 12-volt adapter suitable for powering the glow base (Glowtron) you sent me. So the mug is now a lit fixture at my desk!

Regards, & thanks for the help.
Happy New Year!

Doug Crawford

(Thank you, Doug, for such a detailed set of instructions! - MagicBill)

Please don't even attempt these modifications unless you're as skilled as Doug! (Doing so will violate your warranty!)